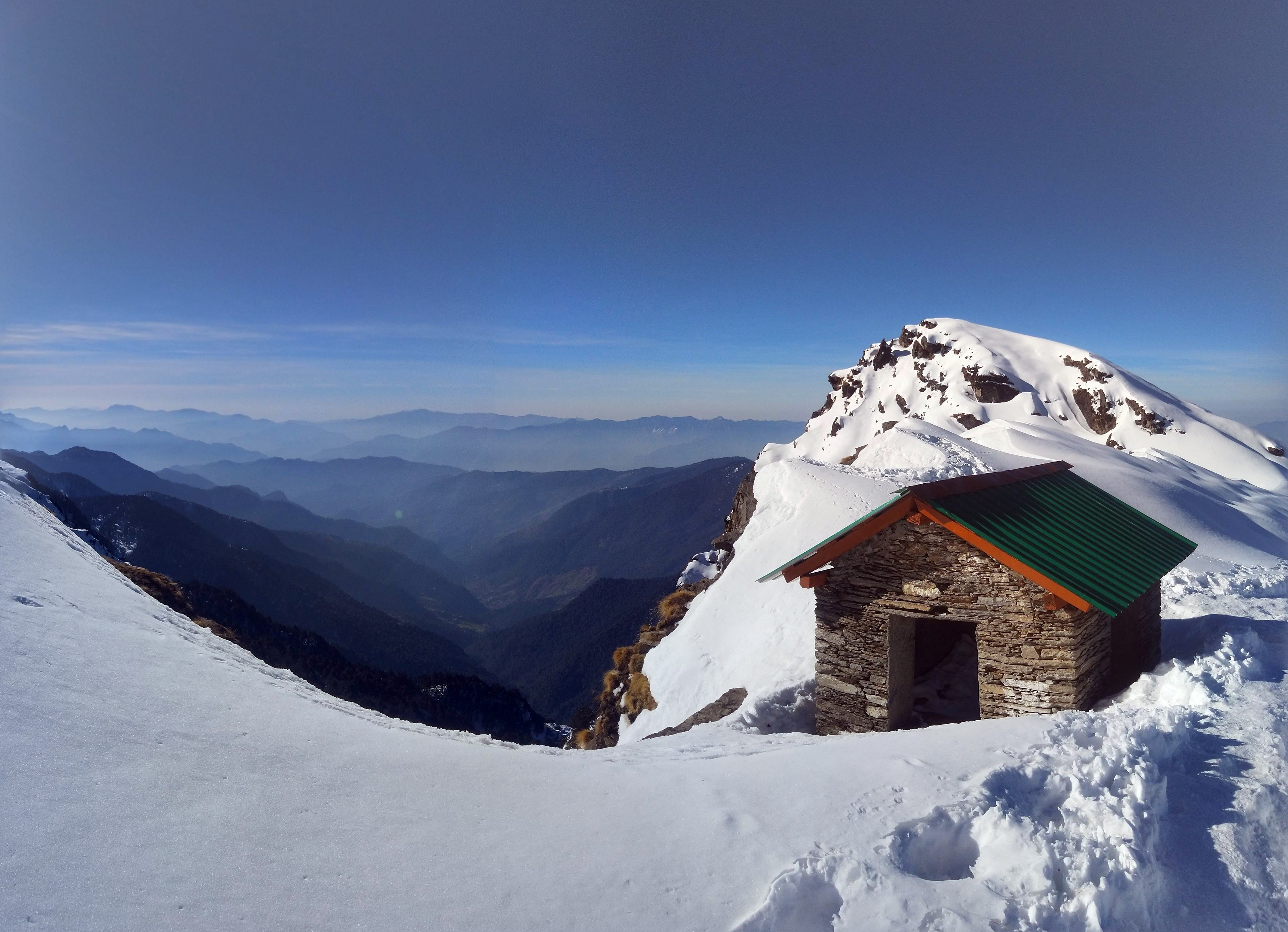 Solo Trek to Tungnath and Chandrashila
I haven't seen a single person till now. I wasn't afraid, but still thinking, am I on the wrong route? or is it a wrong time or season? Will there be any wild life?
#Tungnath
It was a fourth day of Uttrakhand solo trip.
My homestay owner 'Bhupendrabhai' came to drop me to 'Chopta' at the entrance where the 'Tungnath-Chandrashila' trek starts. Seeing and being in the snow after three year, has already brought an excitement.
It was 7.30 in the morning, I started trekking uphill from the temple gate type entrance. it seems that the trek to tungnath temple has well maintained stone path, but it was covered with two-three feet snow.
Well, when you travel or trek solo, it was always expected, you will find some unknown and new companion during the journey. For some good reason it doesn't happen always.
Started from the entrance, from the woods and trees, passing by the some closed stoles all covered with snow, now some beautiful view of base villages, I was all alone. It's been more than an hour now. I was walking without taking halt, just focusing on the foot steps in the snow, I was informed to follow them as a trail by local friend cum guide.
I haven't seen a single person till now. I wasn't afraid, but still thinking, am I on the wrong route? or is it a wrong time or season? Will there be any wild life? than forgetting all, continued walking and capturing beautiful views. When I see some shortcuts or more path, I choose the path 'more traveled'. Of course, in the mountains, It is advisable to follow the trail. On the way, I found a 'mic/mike' like bluetooth speaker.
This was a very moment, when I reached at a point, where Sun has started appearing, just behind soft snow bulges of the hills. It was the view trekkers live for, soft white shinning snow, clear blue sky and bright sun, Ice caped high altitude mountain range to far front. some distant villages in left side valley.
No one else is around, only you with your self. This is a joy moment. for a moment you forgot to capture it, for a moment you wanted to scream, to cry, to think, to sit and also at the same time to go back home!
Tungnath temple seems still far away. It is the highest Shiva temple in the world at 12000 ft altitude, 5 km uphill trek from chopta takes you to this temple. Further 1.5km stiff climb and trek form Tungnath, leads to the summit point Chandrashila peak at 13500 feet.
When you are in such situation, alone, in such utter silence, minds takes you on a rollercoaster ride of one event to another, from one person to another, from some mistakes to the future plans. from a tregedy to happy moments. You also realise, you had not remembered some those events in past many days. This is an experience.
I reach at the temple and the view was mesmerizing. temple was half covered in snow. Above all it was all calm and tranquil. Just the sound of breeze and bird chirping.
I was sitting in front of temple, which was half covered in snow, doors were closed. I seat there for some more time. The sun, The mountains, Snow, The temple and me. I prayed and wished for so many things, for many persons. For me, this was unusual.
I wanted to stay here. I tried to find the route for Chandrashila peak, But couldn't find it. Further trek was not possible due to heavy snow.
Unexpectedly, JIO network was available. I called at home. I sent this beautiful views to some of my friends. Have called a few of them. It happens, it's an awkward feeling of being alone, without any human influence. I wondered around. I ate some snacks. My small backpack was half filled with the trash I collected during the trek. It is usual habit.
It was around 10.30 when I started descending. I was tired and exhausted a bit. Due to melting, the snow path become more slippery. It was then I realized, I haven't had stick, I should have taken it before starting the trek. it was difficult. I took a long slide. That Bluetooth mic become the useful handy tool to control the speed!
I heard some noises below. A group of people were approaching. It was a happy moment. I come close to them, had chatted a bit, they were from Delhi. Then seen some more people at distance. Realized, I might have started the trek early. Mid way, I found a wooden stick, that has helped me a lot during descending. I met many other trekkers on the way. As usual on trekking, they were asking '' abhi aur kitna baki hai" and I was replying "bus thoda aur!"
I reached back around 1 pm. As promised, Bhupendra bhai was waiting there. We reached back to homestay. Had Lunch and After some rest, Same day evening, I had completed 'Deoria tal trek'.